Kenya and Tanzania wildlife vacation / Road & Flying Safari
Reserve our comprehensive 10 Days Kenya and  Tanzania combined luxury safari. This tour starts from Nairobi to Ol pejeta conservancy, which is home to the chimpanzees. Ol Pejeta Conservancy boasts the largest black rhino sanctuary in East Africa. This conservancy is also host to the "Big five game" among a large selection of other African animals. This makes this unique conservancy a popular safari destination.
Safari Highlights
Kenya, Ol pejeta Conservancy
Lake Nakuru National park
Masai Mara Game reserve - 3 nights
Tanzania, Serengeti National park-2 nights
Ngorongoro Crater - 2 nights
Ngorongoro-Arusha, Tanzania- Departure
Day two you head to lake Nakuru national park. Thereafter, proceed to Kenya's most visited park, Masai Mara. Spend 3 nights of intense game drives trailing the Big 5 and other wild game. On day 6 of our Kenya and  Tanzania combined safari take a morning flight to Serengeti National park. Trail the wildebeest migration paths from Masai Mara game reserve into Serengeti national park and Ngorongoro crater tour respectively.
Masai Mara and Serengeti safari
You will discover Masai Mara and Serengeti safari in style. You will be traveling in a 4×4 Land cruiser and flight between Masai Mara and Serengeti national parks. While on this tour clients stay in Luxury lodges inside the game reserves for ideal game viewing. Our 10 days Kenya and Tanzania Luxury safari also includes the Ngorongoro crater safari.
You can add Zanzibar beach holiday or 3 Days Rwanda Gorilla safari to complete the best East Africa safari experience. This tour could also serve as a Wildebeest calving safari or wildebeest Migration safari depending on the travel season. However, travelers are guaranteed of all year round safari with a fascination game viewing experience irrespective of the travel period. While on this safari you will see all the Big 5 animals.
In Tanzania, Ngorongoro Crater is said to have the world densest population of lion. Ngorongoro crater also offers amazing wildlife viewing and scenery. Serengeti is notable for its large migratory herds of wildebeest and zebras with strings of predators in trail. The park has a large array of resident animals which include the Elephant, rhino, buffaloes, lions, leopards. However, the rhino population is declining due to the large amounts of rhino poaching in Africa. In addition you will also  find large herds of impala, Thompson's and Grant's gazelle, roan antelope,  giraffe, warthog, eland, and wildebeest. Serengeti is also well-known for the wildebeest migration.
Kenya and Tanzania Luxury safari
Our 10 days Kenya Tanzania combined safari is specially  designed to allow adequate game viewing opportunities in Masai Mara ( Kenya ) and Serengeti National park.  It is in these two parks where the annual migration of millions of wildebeest and zebra from the Serengeti move in search of water and pasture from July to October every year. They move northwards into the Masai Mara National Reserve in Kenya, and then return to the Serengeti once again. So strong is the ancient instinct to move that no drought, gorge or crocodile infested river can hold them back.
Book your Wildebeest migration safari with us and experience this natural world wonder with our safari guides
This tour runs on a private and exclusive basis, hence it can depart at clients most convenient day.
Safari booking is guaranteed. This privately guided tour is fit for families and at the same time its child friendly.
Hot air balloon safari in Masai Mara and Serengeti national parks excursions is available on request
You will enjoy the services of your safari guide while on our 10 Days Kenya and Tanzania combined luxury safari
This tour stays in luxury lodges and tented camps all along
Whats included in the total safari cost?
All meals
Road travel
Unlimited game drives
park entry fees
government taxes
crater fees , concession and camping fees
mineral water
We offer our guests an option to tailor make this tour. Guests can therefore choose their mode of transport or use their choice of lodges & tented camps. Guests may also opt to include flights between destinations if desired. Kindly do let us know how we can make your dream safari memorable!!!
Route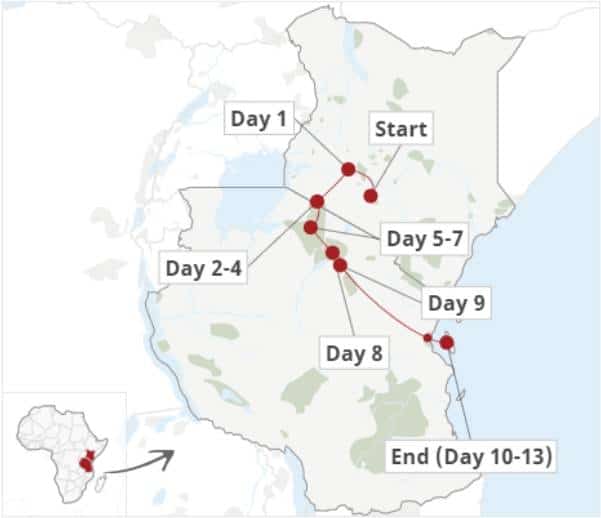 Kenya
Nairobi – Olpejeta conservancy.

Olpejeta conservancy to lake Nakuru national park

Lake Nakuru national park – Mara game reserve

Masai Mara game reserve – big 5 safari

Masai Mara – drive to Mara river for Wildebeest migration crossing

Masai Mara – Flight to Serengeti national park Tanzania
Tanzania
Serengeti National park full day game drives

Serengeti National park – Ngorongoro conservation area via Olduvai gorge

Ngorongoro Crater Tour

Ngorongoro – Arusha – Nairobi or Zanzibar
Wildlife to see

Rhino
available

wildebeest
Abundant
Hippo
common
Lion
Common
Giraffe
common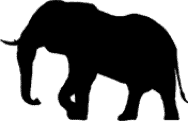 Elephant
Common
Main Destination:
| | |
| --- | --- |
| Ol Pejeta Conservancy | Lake Nakuru National Park |
| Masai Mara National Reserve | Serengeti National Park |
| Ngorongoro Crater | Nairobi |
Interested in This Tour?