Combined  Kenya  and Tanzania group Sharing Safari
Our Kenya and Tanzania group Safari is an ideal holiday tour package that stays in comfortable lodges & camps, therefore making this tour affordable. This is a memorable safari experience touring the best of Kenya and Tanzania's leading game parks and reserves.
Tour Highlights
Nairobi - Masai Mara Game reserve - 2 nights
Lake Nakuru National park
Amboseli National park - 2 nights
Arusha , Tanzania - Lake Manyara National park
 Serengeti national park - 2 nights
Serengeti  National park to Ngorongoro crater tour - 1 night
Ngorongoro Crater - Arusha, Tanzania
This group sharing tour has set departure dates throughout 2022. Whereby, if you are a solo traveler, couple, or a group of buddies willing to cost share the travel expenses, you can reserve this  safari package.
A member of our team will meet you at your hotel or the airport and bring the group together for a tour briefing. Thereafter the group will embark on our 10 days Kenya Tanzania safari adventure. However we advise that you arrive in Nairobi at least one night ahead of the safari departure. In addition to this, we also have a 7 Days Kenya and Tanzania combined group safari
combined Kenya and Tanzania safaris
This small group tour takes a maximum of 6 travelers per vehicle. This therefore  guarantees all on board a window seat for game viewing and wildlife photography.
From Nairobi, the tour journeys across the great Rift valley to Masai Mara game reserve . Here you spend 2 nights with unlimited game drives as you go out in search of the Big 5 animals and other wildlife species. We also recommend Masai cultural tour or a hot air balloon safari experience. The game drives are done in the vast Masai Mara plains with the help of your professional safari guide.
The annul Wildebeest migration from Serengeti to Masai Mara happens from July to October. You have high chance of witnessing the river crossing if you traveled during this period.
Lake Nakuru National park visit is included in this tour. You will arrive in the park for lunch and afternoon game drives. Here you will enjoy the awe inspiring backdrop of the lake, euphorbia forest, Baboon cliff and also Lion hill.
The park has also earned a reputation as an important haven for endangered species. Especially the Rothschild Giraffe and the black and white rhino. Lions, water buck, buffalo and baboons are all residents here.
Small group Safari in Kenya & Tanzania
The 3rd safari destination in Kenya is Amboseli National park. You will spend two nights exploring one of the most popular wildlife park in Kenya. Situated close to Kenya and Tanzania border, Amboseli National Park lies at the foot of Mt. Kilimanjaro. Mt Kilimanjaro is the highest mountain in Africa (5,896 M). Its snow capped summit presents a splendid view in the clear wild. You will spend the best of the two days in the Amboseli national park.
What animals will you see on this 6 Days Masai Mara Lake Nakuru , Amboseli group safari ? You will see the BIG 5 that is, lions, Black rhinos, elephants ,leopard and buffaloes. You will also see other animals such as hippos, crocodiles, giraffe, wildebeests, zebras, warthogs, hyenas, jackals, cheetahs and many kinds of antelopes. While on this tour one can spot numerous species of bird life and scenic views of the Rift valley and African mountains.
After cross border assistance from your safari guides, you will embark on a tour to 3 of Tanzania's parks.Namely Lake Manyara National park, Serengeti national park and Ngorongoro crater.
Tanzania Joining Safari
Your first safari destination in Tanzania while on our 10 Days Kenya Tanzania small group safari will be lake Manyara national park. In Lake Manyara lions have developed a liking for residing in the branches of trees, where they can both sleep and watch for prey. You will journey into Tanzania's most famous park, the Serengeti national park. Serengeti is notable for its large migratory herds of wildebeest and zebras with strings of predators in trail.
Serengeti national park never disappoints all year round although its more exciting if your traveled at certain times of the year. What is the best time to visit Serengeti ? Thousands of wildebeest calves are born in Serengeti national park from January, February to march every year.  If you visit the park during this period you will witness this phenomena. Wildebeest calving about 8000 young wildebeest are born each day.
In June and July wildebeest make their way across the Grumeti River moving northwest in the park in search of the green pasture. The sight of millions of wildebeest herds, zebras and predators is always an exciting experience with on a Kenya and Tanzania safari. Combine Serengeti and Masai Mara ecosystem for a rewarding wildebeest migration safari.
By December, the herds have started to make their way back down south to the southern Serengeti to feed on the short green grasses of the plains after leaving the Masai Mara Game reserve. Therefore, one can book a Kenya Tanzania combined safari at any time of the year.
Affordable safari in Kenya and Tanzania
Ngorongoro crater is the last magical destination while on your 5 days Tanzania Wildlife safari. Ngorongoro is often referred to as "The 8th Natural Wonder of the World". A visit to the crater is a main draw card for tourists coming to Tanzania and a definite world class attraction.
The Ngorongoro Conservation Area is home to Ngorongoro Crater. It was formed some 2.5 million years ago from a volcanic mountain sinking due to inactivity. Ngorongoro crater was initially thought to be higher than Tanzania's famous Kilimanjaro. The crater has evolved into a unique and integral part of Tanzania's ecosystem.
The crater is actually a caldera, measures 22.5 km's across and the rim walls stand 600 m high. Views from within and from the rim are breathtaking. The crater houses 30,000 animals and a large variety of birds, which rarely move from the area due to the availability of water through wet and dry seasons
while on our Kenya and Tanzania Group safari guests stay in comfortable standard tented camps and lodges that are well located in terms of game drives.
This 10 Days combined safari to Kenya and Tanzania has scheduled  small group departures for 2022.
Optional activities while on this tour like Hot air balloon safari and Masai Culture tour can be arranged at an extra cost. Share your African safari experience with other travelers by booking our Kenya and Tanzania Combined scheduled group safari.
Adventure, share, travel, experience Kenya and Tanzania safari magic at affordable prices
Route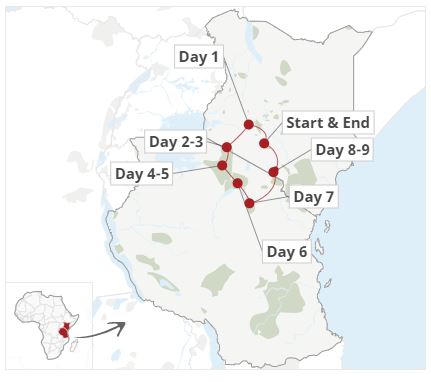 Kenya
Nairobi – Masai Mara Game reserve

Masai Mara Game reserve – Big 5 safari, Hot air balloon safari

Masai Mara – Lake Nakuru National park

Lake Naivasha – Amboseli national park

Amboseli National park
Tanzania
Amboseli ; Arusha – lake Manyara national park

Lake Manyara – Serengeti National park

Serengeti national park

Serengeti National park – Ngorongoro crater Tour

Ngorongoro crater – Arusha town
Wildlife to see
Giraffe
abundant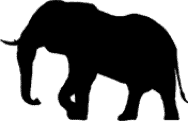 Elephant
abundant

Cheetah
common

Buffalo
abundant
Lion
common

wildebeest
abundant
Interested in This Tour?