12 Days Explore Kenya and Tanzania combined  safari
Discover Kenya's and Tanzania's most iconic game parks when you reserve our Kenya and Tanzania combined safari. You will trail the wildebeest migration paths from Masai Mara to Serengeti national park.
Highlights of this tour include: Masai Mara, Amboseli, Arusha, Lake Manyara National Park, Ngorongoro and also the Great Rift Valley.
Our 12 Days Kenya and Tanzania combined circuit safari program enables you to explore the most famous parks in East Africa without backtracking.
Brief safari program day by day:
 1: Arrival in Nairobi, Kenya
 2-4: Masai Mara national reserve
 5: Lake Victoria-Tanzania
 6-7: Serengeti national park
 8: Ngorongoro crater
 9: Lake Manyara national park
10-11: Amboseli national park
12: return to Nairobi
This Adventure cross border safari combinations to Kenya and Tanzania  exposes you to some of the best game parks in the region. The tour is also filled with abundant wildlife and diverse landscape all along. While on this tour guests stay in lodges and tented camps that are well located in terms of game drives.
With the help of your safari guide, you  can easily spot the big 5 and  other wildlife species on your Kenya Tanzania  wildlife safari.
Best of Kenya and Tanzania circuit wildebeest migration  safari
Touring Masai Mara and Serengeti while on this tour is the most exciting part of this safari. Furthermore, it is in the Mara that perhaps the most spectacular event of the natural world takes place. This is the annual migration of millions of wildebeest and zebra from the Serengeti in search of water and pasture. Following on their heels are the predators of the savanna i.e. lion, cheetah, jackal, hyena and vultures. You also  get to witness the wildebeest calving in Serengeti if you traveled from January to March. More than 8000 young wildebeest are born each day.
Boat ride in Lake Victoria is an amazing experience. It also adds some variety of what Africa has to show besides wildlife encounters. The lodge offers sunset boat cruise and fishing expeditions. Your safari enters Tanzania to visit Serengeti, Ngorongoro crater and Lake Manyara National park .
Why is the Ngorongoro crater so famous?. In Tanzania, Ngorongoro Crater is said to have the world's densest population of lion. Elephants, Black rhinos and buffaloes can easily be seen here. Ngorongoro Crater is often called 'Africa's Eden' and it's also the '8th Natural Wonder of the World.  In fact a visit to the crater is the main draw card for tourists coming to Tanzania and its a definite world class attraction. The Ngorongoro Conservation Area is home to Ngorongoro Crater. The crater is actually a caldera. It measures 22.5 km's across and the rim walls  stand 600 metres high. Views from within and from the rim are breathtaking. What animals am I likely to see in Ngorongoro?. The crater houses 30,000 animals and a large variety of birds. Animals and bird life rarely move from the area due to the availability of water through wet and dry seasons.
Combined Kenya and Tanzania safari
Do not miss out on Lake Manyara national park. This is a serene and beautiful park. Its main attractions is rich bird life, tree climbing lions, elephants, and hippos that you can see at a closer range than most other places. Lake Manyara is also an alkaline lake. At certain times of the year the lake hosts thousands of flamingos and a diversity of other bird life.
Your 12 days Kenya and Tanzania combined safari circuit is complete when you enter Kenya again into Amboseli national park. Here you will spend 2 nights of wildlife game drives. Amboseli is situated close to the Kenya and Tanzania border. The Park lies at the foot of Mt. Kilimanjaro. This is the highest mountain in Africa at (5,896 m). The mountain's snow capped summit presents a splendid view on clear days. The park  is often referred to as "The home of Elephants'. In short some of the largest herds Elephant herds are found here.
This tour runs on private and exclusive basis closed to your group. Hence the tour can depart at your most convenient day.
The safari price includes:
All meals
Road travel
Unlimited game drives
park entry fees
government taxes
crater fees , concession and camping fees
mineral water
In conclusion we offer our guests an option to tailor make this tour. Guests can therefore choose their mode of transport or use their choice of lodges & tented camps. Guests may also opt to include flights between destinations if desired. Kindly do let us know how we can make your ideal wildlife safari holiday  memorable.
Route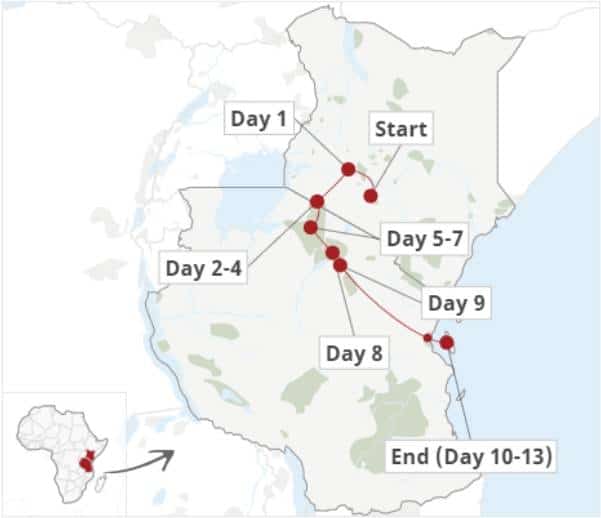 Kenya
Arrival – Nairobi City – Transfer to your hotel

Great Rift Valley – Masai Mara Game reserve

Masai Mara Game reserve – Wildebeest migration trailing

Big Game safari in Masai Mara game reserve – drive to Mara River

Masai Mara – Lake Victoria for fishing excursions and boat ride
Tanzania
Lake Victoria – Serengeti game reserve

Serengeti wildebeest migration safari

Serengeti – Ngorongoro crater tour

Ngorongoro – Lake Manyara National park
Kenya
Lake Manyara National park -Arusha – Amboseli National park

Amboseli National park at the foot hills of Mt Kilimanjaro

Amboseli National park – Nairobi – departure
Wildlife to see

Buffalo
abundant

wildebeest
abundant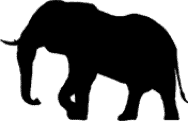 Elephants
Common

cheetah
common

Leopard
common
Lion
common
Main Destination:
| | |
| --- | --- |
| Masai Mara National Reserve | Lake Victoria |
| Serengeti National Park | Ngorongoro Crater |
| Lake Manyara National Park | Amboseli National Park |
Interested in This Tour?