Mt. Kilimanjaro Hiking via Marangu Route/Zanzibar Beach Holiday 
Book our 12 days Mount Kilimanjaro climb combined with a Zanzibar beach holiday. This tour program offers travelers adventure and relaxation on the beach.
You will trek Marangu Route. Climb Marangu route is one of the  most popular routes. Marangu Route also known as coca cola Route. After this adventure you will proceed to the white sandy beaches of Zanzibar.
Marangu Trek -Climb Mt. Kilimanjaro
You will hike all the way to Uhuru Peak. You will spend the nights in comfortable mountain huts.
The Marangu route is often billed as one of the easier walking routes, however, the route has the  lowest success rate (42%). This is because too many climbers try to do it in only 5 days and fail because of poor acclimatization. We have added an extra day's acclimatization to enhance more chances of reaching the summit .Book our 8 days Mt Kilimanjaro climb Marangu route trek guided with trained mountain trekking guides.
Approaching Mount Kilimanjaro from the southeast, the Marangu route uses the same ascent and descent route. This means it is less scenic than the other routes. For climbers who do not wish to camp, then Marangu is the only route that offers dormitory style hut accommodation.
The journey passes through the village of Marangu, which is located on the lower slopes of the mountain. Once you reach the park gate, all hikers are requested to sign in at the Park office and make their final preparations for the climb.
Mount Kilimanjaro & Zanzibar Beach Holiday
After the Mount Kilimanjaro trekking,  you will head to Moshi. Here, you will fly to Zanzibar as you head to the tail end of 12 days Kilimanjaro trek & Zanzibar vacation. You will spend 4 nights on this scenic island in the Indian Ocean. Zanzibar is an ideal holiday destination, with the cool ocean breeze against the tropical island's sandy beach.
The island is also rich in history. You can opt to spend some time exploring the Swahili culture and also get to buy some merchandise for your memorabilia.
After the four nights, you will head to the airport here you will mark the end of your 12 day Kilimanjaro climb & Zanzibar beach holiday.
This tour runs on private and exclusive basis closed to a specific group hence the tour can depart at clients most convenient day.
We are willing to tailor make this safari for you. With options flexible to meet your requirements. Feel free to contact us so as to customize your African holiday safari.
Route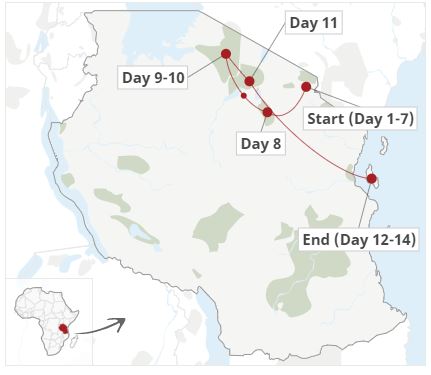 Tanzania
Arrival in Arusha

Start of your Mt. Kilimanjaro climbing expedition at the Marangu Gate with a stay at the Madara hut 2700M

Ascend upwards to Horombo Hut (3720 M)

Acclimatization Day in Horombi Hut

Ascend to Kibo Hut (4700M) above sea level

Summit Attempt; from Kibo Hut, climb upwards to Uhuru Peak (5895 M)

Descend to Horombo Hut (3720 M) then to Marangu Gate.

Fly from Kilimanjaro Airport to Zanzibar Island.

Zanzibar Beach holiday.

Zanzibar to Nairobi (Safari ends)
Main Destination:
| | |
| --- | --- |
| Mount Kilimanjaro | Zanzibar Beach Holiday Vacation |
Interested in This Tour?