Discover 13 Days Kenya and Tanzania  combined Scenic Budget Lodge  safari
This tour combines the most famous wildlife parks and reserves in Kenya and Tanzania with rewarding wildlife viewing opportunities all year round. You have an opportunity of witnessing the annual wildebeest migration in Masai Mara and in Serengeti depending on the travel season .
While on this tour you are assured of seeing the big 5. You will also enjoy scenic views of the rift valley as well as breathtaking views of Mt. Kilimanjaro and Ngorongoro crater.
Accommodations while on this tour is in well selected mid range lodges and Tented camps that are located inside the parks or very close to the parks . We recommend hot air balloon safari in Masai Mara and Serengeti park.
Experience the rich African culture by visiting the Masai or chagga community villages while on safari with us.
Affordable safari in Kenya and Tanzania
Our 13 Days Kenya and Tanzania Combined scenic safari visits the following national parks in Kenya and Tanzania: 
3 nights Masai Mara national reserve
1 night hell's gate national park
2 nights Amboseli national park
1 night Lake Manyara national park
2 nights Serengeti national park
1 night Ngorongoro crater safari
1 night Tarangire national park safari
4 day  Masai Mara safari
This tour starts from Nairobi to Masai Mara game reserve for 3 nights stay. Here you will spend 4 days of your 
13 days Kenya and Tanzania safari
on game drives with your safari guide.  
Masai Mara game reserve
 is the world's most famous game reserve. You will find the BIG 5 and other wildlife in such variety and abundance that it is difficult to believe. During your 4 days Game safari in Masai Mara.
What animals will you likely see in Masai Mara? 
You will see wildlife such as lions, rhinos, hippos, crocodiles, giraffe, wildebeests, zebras, buffalo, warthogs, hyenas, jackals, buffalo, leopard, antelopes and elephants. It is in the Mara that perhaps the most spectacular event of the natural world takes place. This is the annual migration of millions of wildebeest and zebra from the Serengeti in search of water and pasture. Following on their heels are the predators of the savanna especially lions, cheetahs, jackals, hyenas and vultures. Amboseli National Park is one of Kenya's finest Game Parks. The park sits on the foot of Mount Kilimanjaro, however the park is famous for its great wildlife conservation efforts of the now numerous herds of  elephants that thrive in the Game Park. The park is also home to other wildlife including giraffes, zebras, bird life and not to forget the big five wildlife. Amboseli is an ideal location for photographic safaris, due to its stunning beauty overlooking  Mt. Kilimanjaro.
Tanzania Budget safari
Serengeti National park is Africa's best game park. It is well known for the annual wildebeest migration that takes place between June and August. The park also holds one of the most concentrated lion populations in the world. Visiting this park is truly memorable. There is also the presence of the big 5 in the park. The next morning you will pack up for Ngorongoro crater. Ngorongoro Crater is set along the Ngorongoro Forest and is located 7500 feet Above Sea level. The park holds amazing bird life and is also home to the Black Rhino. This park is also home to the big 5 wildlife.
We also offer an alternative tour with scheduled group departure is 10 days Kenya Tanzania group safari with set departures for both 2021 and year 2022 respectively
This is a privately guided tour that runs on private and exclusive basis and departs at clients most convenient date.
The safari price includes park entry fees, transportation, Game drives, Ngorongoro crater fees, camping fees and also other government taxes. We offer you an option to customize this tour. You can use your choice of lodges & camps and you may also include flights as desired. Let us know how we can make your ideal wildlife safari holiday.
Route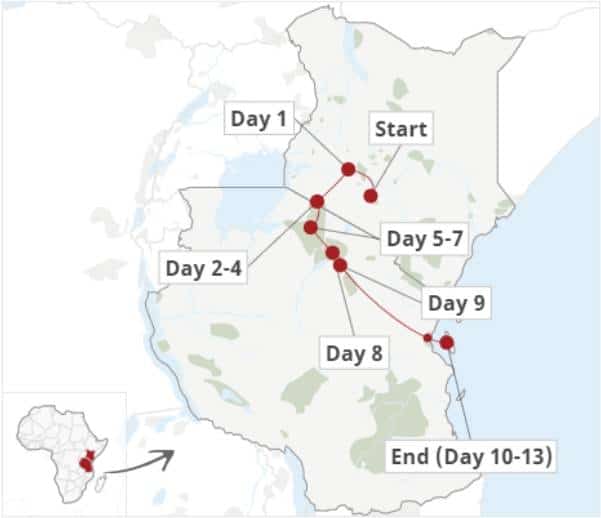 Kenya
Arrival – Nairobi Overnight at a City hotel

Nairobi to Masai Mara Game reserve

Full day game drive in the Masai Mara.

Masai Mara Game reserve to Lake Naivasha

Lake Naivasha to via Nairobi Amboseli national park
Tanzania
Full Day Game Drive in Amboseli national park

Amboseli national park enter Tanzania and drive to Lake Manyara National park

Lake Manyara national park to Serengeti national park

Full day in Serengeti national park

Serengeti to Ngorongoro crater

Ngorongoro Crater to Tarangire National park

Tarangire national park road Travel to Arusha and Nairobi Via Namanga border
Wildlife to see
Giraffe
abundant

White Rhino
Common

Buffalo
abundant

Zebra
abundant
Hippo
Common

Cheetah
common
Lion
Common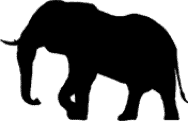 Elephant
Common

Leopard
common

Wildebeest
abundant

Hyena
common
Main Destination:
| | |
| --- | --- |
| Masai Mara National Reserve | Hells Gate National Park |
| Amboseli National Park | Lake Manyara National Park |
| Serengeti National Park | The Ngorongoro Crater |
| Tarangire National Park | Nairobi |
Interested in This Tour?