Discover Kenya Wildlife  Safari
This adventurous 14 Days Discover Kenya wildlife Safari is a privately guided tour. The tour visits 7 of the best game parks and Game reserves in Kenya. The safari starts in Nairobi to the north via the high shoulder of Mountain Kenya to the Samburu Game Reserve. While in the popular park situated in Kenya's Northern hemisphere, you will spend 2 nights game viewing in the savanna grasslands.
Brief safari Itinerary day by day:
1. Nairobi to Samburu Game reserve
2: Samburu Game reserve
3:  Ol pejeta Conservancy / Sweetwater's
4   Lake Nakuru National Park
6-8: Masai Mara Game reserve for 2 Nights
9: Masai Mara to Lake Naivasha
10: Amboseli National Park -2 nights
11-12: Tsavo West National Park
13: Tsavo East National Park
14: Departure
Chimpanzee Sanctuary / Rhino Sanctuary / Big five Safari
On the third day of your Kenya scenic safari, you will visit the Sweetwater's sanctuary. At Ol pejeta you will get to see Kenya's Chimpanzees, the only ones in East Africa. The conservancy also holds the Black Rhinos among other wildlife. You will spend one night at the  Sweetwater's Serena camp or a similar hotel or lodge.
Proceeding to the fourth day, your safari continues to Lake Nakuru National park.The Park is home to one of the alkaline Rift Valley lakes and a famed bird sanctuary. The park has over 365 recorded species of birds. The Lake has also earned a reputation as an important haven for endangered species. More so for the Rothschild Giraffe and the black and white rhino. Other wildlife such as Lions, water bucks, buffalo and baboons also reside here.
Masai Mara wildlife safari
On the fifth through to the seventh day of your 14 days Kenyan Adventure, you will spend quality time in the Maasai Mara national reserve. Relax in the world famous game park for 3 nights. Here in the Masai Mara , you find the BIG 5 plus other wildlife in abundance. Over 450 species of animals have been recorded here. You will see wildlife such as lions, hippos, crocodiles, giraffe, wildebeests, zebras, buffalo, warthogs, hyenas, jackals, leopard, many kinds of antelopes and  elephants.
We highly recommend balloon safari and the Masai cultural tour when you visit Masai Mara.
We also offer a similar 12 Days Kenya wildlife trails safari . This tour stays in mid range lodges and tented Camps.
After the Masai Mara safari, you will travel to Hell's gate National Park. Lake Naivasha is one of the freshwater lakes in Rift Valley. In the afternoon, you will unwind on a sun downer boat ride excursion on the lake. You can also opt for a nature walk and bike ride at Hell's gate National park nearby.
On the next day, you will head to  Amboseli National Park.  Amboseli is situated at the foot of Mt Kilimanjaro. Here you will spend 2 nights. The park offers rewarding game viewing opportunities with large herds of elephants, lions,Giraffes, numerous species of bird life and not to forget the great views of Mt Kilimanjaro.
Kenya Wildlife safari
The following day, you will travel to the Tsavo West National park. You will visit the Mzima Springs, the foremost attraction here is that it's a favorite retreat for the hippos and African crocodiles. On the thirteenth and fourteenth days, you will finally travel to the neighboring Tsavo East National Park. This is the last attraction while on our  14 days Kenya wildlife trails safari. In this game park, the landscape is flatter and drier than the Tsavo West.
Despite having one of Kenya's largest rivers flowing through the middle, Athi River. Much of the wildlife is concentrated on the Galana River, which has numerous African crocodiles and hippos. Kudus, water bucks, and dik-diks are also common along the river banks.
This 14 Days Discover Kenya Wildlife game lodge safari runs on  private and exclusive basis closed to Individual Groups. Hence the tour  departs at guest's most convenient date.
Transport and Game Drives on this Kenya wildlife tour are in a custom made 4×4 safari vehicle with a pop up roof. The vehicle is ideal for game viewing and photography. We guarantee all travelers a window seat. All meals, game drives, and park entry fees while on this  Kenya wildlife trails safari is included in the price.
While on this safari guests stay in well selected lodges and camps. We  offer guest an option to tailor make this tour. Guests can use their choice of lodges and camps and you may also include flights as desired. Feel Free to keep in touch with us so as to make the best of your  African wildlife safari memorable.
Discover Kenya's wildlife and it's prestigious beauty with Asili Adventure Safaris.
Route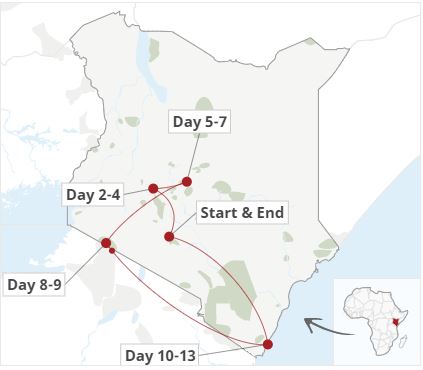 Discover Kenya Wildlife
Nairobi to Samburu National Reserve

Samburu Game Reserve

Samburu game reserve to Sweetwaters ranch

Sweetwaters Ranch to Lake Nakuru National park

Lake Nakuru National Park to Masai Mara National Reserve

Maasai Mara National reserve

Masai Mara Game reserve to Lake Naivasha national park

Lake Naivasha to Amboseli National park

Amboseli Game park (full-day safari)

Amboseli National Park to Tsavo West National park

Tsavo West National Park to Tsavo East National Park

Tsavo East national Park

savo East game park to Nairobi
Wildlife to see

black Rhino
Common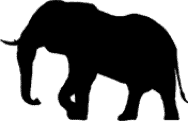 Elephants
abundant

Buffalo
Abundunt

Cheetah
common
Lion
Common

Leopard
common
Main Destination:
| | |
| --- | --- |
| Samburu Game Reserve | Ol Pejeta conservancy |
| Lake Nakuru National Park | Masai Mara National Reserve |
| Hells Gate National Park | Amboseli National park |
| Tsavo West National park | Tsavo East National park |