Located in the Great Rift Valley 1750m above sea level, Lake Nakuru is known as an ornithological paradise by birdwatchers because the lake is world-famous as the location of the greatest ornithological spectacle on earth, which boasts anywhere between one and two million lesser and greater pink flamingoes that feed on the abundant algae thriving in the lakes warm waters. It is one of the few parks that have been specifically established (Gazetted) for the protection of birds specifically flamingoes, more than 450 species of birds have been recorded here. The park has also been established for the protection of endangered species such as the rhino and is also home to Columbus monkeys, Leopards, Giraffes, and a variety of plain antelope. An afternoon game drive around the lakeshore will be the main feature for the afternoon, dinner & overnight tonight will be served
Route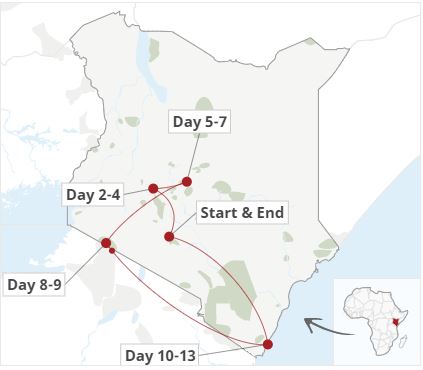 Discover Kenya Bird watching
Ol Pejeta conservancy

Sweetwaters – Samburu national reserve

Samburu game reserve to Sweetwaters ranch

Samburu - Lake Nakuru National park

Lake Nakuru national park

Lake Nakuru - Kakamega Forest.

Kakamega Forest

Kakamega Forest - Lake Victoria

Lake Victoria- Masai Mara National Reserve

Masai Mara National Reserve

Masai Mara- Lake Naivasha.

Lake Naivasha - Hell's Gate national park

Masai Mara
Main Destination:
| | |
| --- | --- |
| Samburu Game Reserve | Sweetwater's Game Ranch |
| Lake Nakuru National Park | Masai Mara Game Reserve |
| Hells Gate National Park | Amboseli Game Reserve |
| Tsavo West National park | Tsavo East National park |
Day 1 Nairobi – Ol Pejeta conservancy
After breakfast, depart to the Sweetwaters Tented Camp in the secluded heart of the Ol Pejeta Ranch and Rhino sanctuary. Built within a private ranch, the camp is a "Rhino heaven" which also supports a wide variety of birds such as Augur Buzzard, Stout Cisticola, Cape Robin Chat, Black Kite, African Harrier Hawk among other highland species. The sanctuary also support large mammals such as elephants, giraffes etc, it is only here that you can have a night game drive at extra cost. A visit to the Chimpanzee sanctuary should not be missed Lunch will be served at the Camp. Dinner and overnight tonight will be served at luxurious Sweetwaters Tented Camp.