15 Days Discover Kenya And Tanzania  Wildlife Cultural Safari
Our
Kenya and Tanzania wildlife safari
is a mid range safari package to Kenya's & Tanzania's most famous parks. This tour offers abundant wildlife throughout the year. As well as beautiful sceneries and the rich Masai cultural experience. It is a two Weeks
Kenya and Tanzania tour
that visits the best game parks.
Safari highlights: 
3 nights Masai Mara national reserve
1 night Lake Naivasha
2 nights Amboseli national park
1 night Moshi
Ol Popongi Masai cultural
Lake Manyara national park- 1 night
Serengeti national park for 2 nights
1 night Ngorongoro crater -
finally Tarangire national park - 1 night
This tour program includes walking & cultural tours besides game viewing in the national parks.
Kenya & Tanzania safari packages
While on our Kenya and Tanzania safari guests stay in mid range tented camps and lodges. This makes the tour comfortable and affordable to all adventure travelers. This  African overland safari showcases the best of East Africa's wildlife parks, beautiful landscape, Big 5 safaris and the wildebeest migration in both Masai Mara and Serengeti national park. In addition to Walking safari in Crescent Island and at the materuni water falls Moshi, Mt Kilimanjaro areas. The diversity of this tour is combining with a night stay at Ol popongi Cultural village for a night experience of the rich Masai  culture.
This guided tour runs on private and exclusive basis. closed to an individual group or family traveling together.
The highlights of this wildlife and cultural safari  is visiting some of the most popular game parks in the region. Masai Mara and Serengeti is where the annual wildebeest migration and the wildebeest calving takes place depending on the travel period.
Budget safari in Kenya and Tanzania
Masai Mara and Serengeti  ,it is in these two parks that perhaps the most spectacular event of the natural world takes place. This is the annual migration of millions of wildebeest and zebra from Serengeti in search of water and pasture. Following on their heels are the predators of the savanna i.e. lion, cheetah, jackal, hyena and vultures. Besides, you also can get to witness the wildebeest calving in Serengeti if you traveled between January to March. Over 8000 young wildebeest are born each day. So strong is the ancient instinct to move that no drought, gorge or crocodile infested river can hold them back.
Book your Wildebeest migration safari with us. and experience this natural world wonder with our safari guides
This tour runs on private and exclusive basis.
This Safari booking is guaranteed. This privately guided tour is fit for families and its children friendly.
Hot air balloon safari in both Masai Mara and Serengeti national park is available on request.
You will enjoy professional services from your safari guide while on our  Wildlife and cultural safari.
This tour stays in lodges and tented camps all along.
We offer our guests an option to tailor make this tour. Guests can therefore choose their mode of transport or their choice of lodges & tented camps. You may also opt to include flights between locations if desired. Kindly do let us know how we can make your dream safari memorable!
Route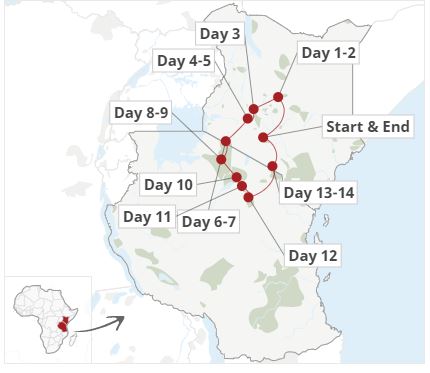 Kenya
Nairobi (Kenya )- Rift Valley Masai Mara Game reserve

Masai Mara Big 5 safari , Hot air balloon option excursions

Masai Mara – Wildebeest migration trailing with a drive to Mara river

Masai mara – lake Naivasha -Hells gate walking safari

Lake Naivasha – Amboseli National park

Amboseli National park
Tanzania
Amboseli – Moshi Tanzania -Mt kilimanjaro

Olpopogi – Overnight at a Masai cultural village

Olpopogi – Lake Manyara national park

Lake Manyara National park – Serengeti National park

Serengeti national park – full day game drives

Serengeti – olduvai gorge museum visit – Ngorongoro Conservation area.

Ngorongoro full day crater tour

Ngorongoro Crater -Tarangire national park

Tarangire national park – Arusha Town ( tanzania) departure
Wildlife to see

Buffalo
Abundant

Wildebeest
abundant
Lion
common

Leopard
common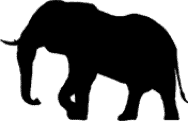 Elephants
abundant

Cheetah
common
Main Destination:
| | |
| --- | --- |
| Masai Mara National Reserve | Hells Gate National Park |
| Lake Naivasha | Amboseli National Park |
| Olpopongi-Masai Cultural Village | Lake Manyara National Park |
| Serengeti National Par | Ngorongoro Crater |
| Tarangire National Park | Nairobi |
Interested in This Tour?