Kenya and Tanzania wildlife & Beach Safari
Reserve our Kenya & Tanzania wildlife safari & Zanzibar beach holiday. This is an ideal Safari that takes you to the best of both Kenya and Tanzania safari game parks. The safari begins with an evening touch down at Nairobi's JKIA airport. Upon arrival, you will be met by your driver, who will be on standby at the Airport terminal. Here, you will head on to your Nairobi City hotel for relaxation and an evening dinner in readiness for the 15 days safari ahead.
Our 15 Days Kenya and Tanzania Bush and Beach safari starts with  a safari briefing. Your guide will brief you on the Kenyan Game Parks Rules and Regulations and will also be available to you in case of any assistance you need. We can also provide you with multi-lingual tour guides on your request. After the safari briefing by your tour guide, you will kick start your safari to Ol Pejeta conservancy.
The Journey to Ol Pejeta Conservancy, Nanyuki takes about 3 and a half hours.You will arrive just in time for lunch at Serena Sweetwaters Tented Camp. The conservancy is situated right along the Equator line. Thereafter you will proceed for a game viewing experience at one of the finest private conservancies in Kenya. The Ol  Pejeta conservancy is home to predators like lions, African Wild Dogs and cheetahs. It also hosts endangered wildlife like the Black Rhino, Grevy's zebras. It is also the only Chimpanzee conservancy in Kenya! Ol Pejeta is rich in wildlife and has the most suitable habitats for these wild animals.
Wildlife & Beach safari in Kenya and Tanzania
After the unforgettable stay at Ol Pejeta conservancy, you will head south towards Lake Nakuru National Park, for an afternoon Game Drive at the beautiful bird sanctuary. Lake Nakuru National Park is home to the endangered black and white rhinos. The park is also home to the big 5 wildlife among the giraffes, hippos, hyena, baboons, and zebras. The park is scenic and ideal for photography safaris. It is also home to the Pink Flamingos,which reside along the lake's shore feeding on algae.
Thereafter, your trip heads on southwards to the famed home of the wildebeest migration and hub of the African lions, The Masai Mara Game Reserve. This world famous game park offers you one of the best African adventure experience. This destination is a must-visit while on safari in Kenya. The Masai Mara National reserve is not only known for its rich wildlife and ecosystem but also its abundant Masai culture. You can also choose to participate in various activities while in Masai Mara like; Hot Air Balloon safari at an extra cost of  $ 450 and also a guided Masai village tour in the Masai Village where you will get to participate in the Masai Dances.
Masai Mara Safari
With 3 nights spent in the Masai Mara, you will head on to Tanzania's premier National Park, Serengeti National Park. Like the Masai Mara, Serengeti is rich in wildlife and is home to Africa's predators like lions, cheetahs, wild dogs, hyenas and also the shy African leopard. You can also choose to have a Hot Air Balloon Safari while in the Serengeti. The park is also home to the annual wildebeest migration and wildebeest calving season of January to March. You will enjoy a full day Game Drive at the Serengeti then head to the Ngorongoro Crater.
The Ngorongoro Crater is home to over 25,000 animals. This rich and pristine conservation area is situated along the Olduvai Gorge in Northern Tanzania. Some of the wildlife that resides here include; the African or Cape Buffalo, Lions, Black rhinos, hook-lipped Rhinos, blue monkeys, Eland, wildebeest and zebras. While some of the bird species include; the Grey-crowned cranes, Silvery-cheeked hornbill, lesser Flamingos, black kite among plenty bird life.
Zanzibar Beach Vacation
After the scenic wildlife safari in the East African bush, you will head on to Zanzibar Beach for a 4 nights vacation. The beach offers the best relaxation spot after the lengthy safari in Kenya and Tanzania. It is an ideal location for your family to enjoy the beach and unwind as your safari heads to a close. Zanzibar Island is rich in Swahili culture and holds one of the best hotel facilities in Africa. We will reserve the best hotels that are situated by the beach, along the sandy Zanzibar beach facing the Indian Ocean. You can also choose to extend your stay at Zanzibar Beach.
You will thereafter board a plane to Nairobi's JKIA Airport for the close of your 15 Days Kenya & Tanzania Bush and Beach Safari. We are also willing to customize your safari. Feel free to contact us in case you need to customize this safari so as to meet your budget and accommodation requirements.
Asili Adventure Safaris is your Absolute African Safari Experience. We ensure your family's utmost safety while on your safari. Reserve your safari with us today!
Route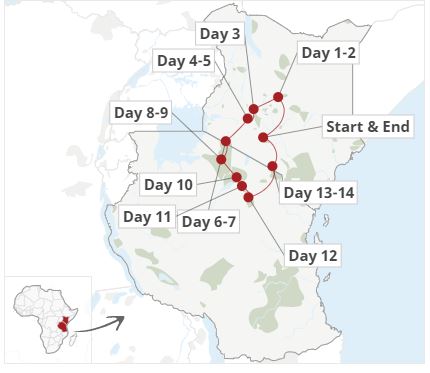 Kenya
Arrival in Nairobi with an Airport Transfer to a city hotel

Nairobi-Ol Pejeta Conservancy

Ol Pejeta- Lake Nakuru National park

Lake Nakuru to Masai Mara National Reserve

Full Day Spent in the Masai Mara Game Reserve

Masai Mara to Serengeti National park
Tanzania
Full day Serengeti National Park

Serengeti National Park to Olduvai Gorge

Ngorongoro crater

Ngorongoro to Kilimanjaro Airport, Fly to Zanzibar Island

Family vacation holiday in Zanzibar Beach

Zanzibar Beach to Nairobi (Safari Ends)
Wildlife to see

wildebeest
abundant

Buffalo
abundant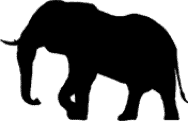 Elephant
abundant

cheetah
common
Lion
common

Leopard
common
Main Destination:
| | |
| --- | --- |
| Nairobi | |
| Ol Pejeta Conservancy | Maasai Mara National Parks |
| Lake Nakuru national park | Serengeti National Park |
| Ngorongoro Crater Attractions | Zanzibar Beach Attractions |
Interested in This Tour?