4 Days Masai Mara Luxury  Lodge Safari -by Road
This is a private and exclusive 4 Days Kenya safari holiday This tour stays in well selected luxury lodges/tented camps  in the world famous Masai Mara game reserve. Masai Mara is renowned for its large population of big cats and the wildebeest herds alongside other thriving wildlife in the ecosystem.
Brief safari Itinerary day by day:
1.Nairobi to Masai Mara game reserve
2-3: Masai Mara Game reserve – 2 Nights
4: Masai Mara to Nairobi
Our 4 days Masai Mara safari starts in Nairobi, with a safari briefing by your  safari guide. The briefing entails a breakdown of the Masai Mara Game Park Rules, animals you are likely to see and also how long the journey will take you.
Luxury lodges/ Masai Mara Safari Holidays
The journey takes you through the Great Rift Valley. You will have a brief stopover at the Rift Valley's viewpoint for a photographic moment. After the 6 hour trip, you will arrive in time for lunch at your  tented camp or lodge. Here, you will enjoy your scrumptious African cuisine and short rest. At 1600 hrs embark on an afternoon game viewing experience. Top it off with a beautiful sunset that marks the end of your day 1. Return to your camp where you will unwind the beautiful evening in the wild with a meal and overnight stay.
The following three days will be full of adventure and fun filled activities. Our Masai Mara luxury road safari is child friendly. Hence, you can opt to bring your kids along for  the safari. We also have a similar 4 days Masai Mara air safari package  .Taking children along  on a safari enables them to learn more about wildlife. They also get to have a broader understanding of the rich African culture. This can help grow your child's intelligence and memory.
Luxury hotels are characterized by stunning views and scenery of the Masai Mara. They also have a swimming pool , fitness facilities, curio shops, hair salons among other extra facilities. We will certainly reserve the most suitable lodge or camp in Masai Mara for you. Our 3 Days Masai Mara air safari too is available on request.
Where does your holiday in the Masai Mara start?
A member of our team will meet you at your Nairobi hotel or the airport for a safari briefing. Thereafter you drive via the Great Rift Valley with a brief stop at the escarpments' viewpoint. You will be expected to check in at your Masai Mara lodge or tented camp which will be your safari destination just in good time for lunch. At 1600 hrs embark on an evening game drive to mark day 1 of your 4 Days Masai Mara African safari. Your next 3 days in Masai Mara national Reserve will be spent exploring the vast lands of the Masai Mara on game viewing adventures.
What animals will you see in Masai Mara?
During your 3 days safari experience at the national reserve, you will easily see  the big 5 i.e  lions, buffalo,  leopards, and the elephant. Other animals include; hippos, crocodiles, giraffe, wildebeests, zebras,  warthogs, hyenas, jackals, many species of antelopes.
During your safari holiday in this amazing place from the period of July to September, the sensational event of the natural wild takes place. This is the annual migration of millions of wildebeest and zebra from the Serengeti National Park in search of water and pasture.
Your game drives in Masai Mara will include a visit to Mara River. This is where the annual wildebeest crossing takes place from July through to October. Your safari guide could also drive you to Talek River or Sand River where the wildebeest crossing also takes place.
We highly recommend hot balloon safari and the Masai cultural tour when you visit Masai Mara. One can take this tour at any time of the year since you are assured of seeing the big 5.
You will enjoy the exclusive services of your expert English speaking guide. We also have multilingual tour guides available on request.
Whats included in the 4 days Masai Mara safari cost?
All meals
Road travel
Unlimited game drives
park entry fees
government taxes
mineral water
We also offer guests an option to tailor make this tour and pick their own choice of lodges or camp. We can also include a flying option for your wildlife safari holiday. The end of this safari comes with a drop off at the airport or at your Nairobi hotel.
Route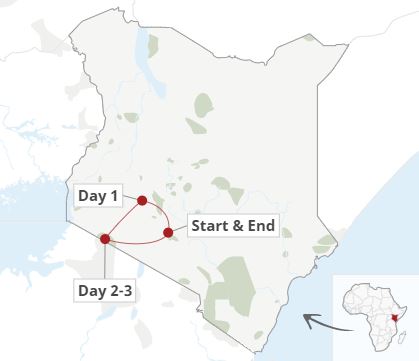 Masai Mara National Reserve
Nairobi - Masai Mara National Reserve

Masai Mara National Reserve

Masai Mara -Nairobi
Wildlife to see
LIon
Common

Wildebeest
Abundant

Buffalo
Abundant

Hyena
common

Cheetah
common
Hippo
Common
Interested in This Tour?