We will start birding on our first full day in Africa by traveling to the nearby Nairobi National Park, conveniently located less than 10km from the city and though only 117km² has one of the richest avian diversity with a record of over 515 species. This is the place to find the newly almost-described Nairobi Pipit. Birds include Common Ostrich, Great, Long-tailed Cormorant, Common Squacco, Black-headed, Grey Herons, African Spoonbill, African Finfoot, White-faced Whistling, Knob-billed Ducks, Red-billed Teal, Secretary Bird, Black-shouldered Kite, Lappet-faced Vulture, Ayres's Hawk-Eagle, Martial Eagle, Black-chested Snake Eagle, Shelly's & Yellow-necked Spurfowl, Hartlaub's Bustard, Emerald Spotted Wood, Namaqua, Dusky-turtle, Laughing Dove, Hartlaub's Turaco, White-bellied Go-away-bird, White-browed Coucal, African Palm, Mottled Swifts, Blue-naped Mousebird, Little & Cinnamon-chested Bee-eaters, Lesser, Greater Honeyguide, Eastern Honeybird, Nubian Woodpecker, White-tailed, Rufous-naped Lark, Wire-tailed, Lesser-Striped Swallow, Rock Martin, Yellow-throated, Pangani, Rosy-breasted Longclaw, Pale, African Grey, Southern Black Flycatcher, Lesser Swamp Warbler, 9 Cistocolas (Singing, Stout, Croaking, Siffling, Rattling, Winding, Desert, Zitting & Pectoral-patched), Grey-capped Warbler, Abyssinian, Montane White-eyes, Lesser Kestrel, White-bellied, Red-throated Tits, Jackson's Widowbird, Yellow-billed Oxpecker.
The park also hosts well over 100 species of mammals including four of the big five less elephants. Also Masai Giraffe, Eland, Impala, Grants and Thompson's Gazelles, Southern Bushbuck, Suni, Warthog, Olive Baboon, Overnight at a city hotel, Nairobi
Route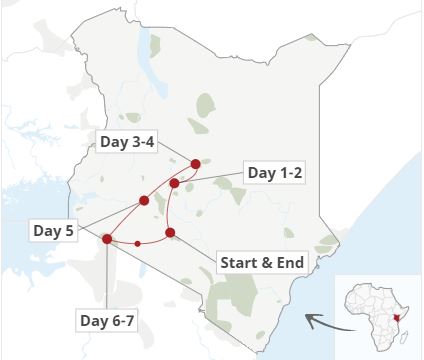 Nairobi National Park

Nairobi- Gatamaiyu Forest- Lake Nakuru National Park

Lake Nakuru National Park

Lake Nakuru- Masai Mara National Reserve.

Maasai Mara National Reserve

Masai Mara – Nairobi
Main Destination:
| | |
| --- | --- |
| Masai Mara National Reserve | Lake Nakuru National Park |
Interested in This Tour?