Affordable 7 Days Kenya and Tanzania combined budget lodge safari.
Reserve our 7 days Masai Mara and Serengeti safari. This tour starts from Nairobi to Masai Mara game reserve for a 2 nights stay. Here you will spend 3 days of your 7 days Masai Mara and Serengeti Safari on game drives with your safari guide.
Safari highlights
Masai Mara Game reserve - 2 nights
Lake Victoria
Serengeti -2 nights
Ngorongoro- 1 night
Masai Mara game reserve is the world's most famous game reserve. You will find the BIG 5 and other wildlife in such variety and abundance that it is difficult to believe. During your 2 days Game safari in Masai Mara.
What animals will you likely see in Masai Mara? You will see wildlife such as lions, hippos, crocodiles, giraffe, wildebeests, zebras, buffalo, warthogs, hyenas, jackals, leopard, antelopes and elephant.
It is in the Mara that perhaps the most spectacular event of the natural world takes place. This is the annual migration of millions of wildebeest and zebra from the Serengeti in search of water and pasture. Following on their heels are the predators of the savanna i.e lion, cheetah, wild dog, jackal, hyena and vultures.
Masai Mara, Serengeti & Ngorongoro safari
On the third day, you drive to the border and exchange vehicle and driver guide. Border formalities, thereafter, you will proceed to Tanzania with an overnight stay at a lodge in Lake Victoria. The lodge is perfectly located at the south eastern shore of Lake Victoria. Lake Victoria is East Africa's freshwater lake.
Excursions available at the lodge include:
Canoe trip on Lake Victoria to a fishing village
Mountain bike trip through the Hills
Lake Cruise
Bird walk
2 days at Serengeti National Park
The Lodge is located just 15 kilometres from Serengeti national park gate. Our 7 Days Kenya and Tanzania safari via Lake Victoria. Day 4 morning you enter Serengeti national park. Embark on full day game viewing in this famous park. The park has a large array of resident animals such as  Elephant, rhino, buffaloes, lions and leopards.  However, the rhino population is declining due to the large amounts of rhino poaching in Africa. In addition you will also  find large herds of impala, Thompson's and Grant's gazelle, roan antelope,  giraffe, warthog, eland and wildebeest.
Serengeti is also well known for the wildebeest migration. This is when millions of wildebeest, zebra and gazelle pass through the park in search of green pasture.  They move northwards into the Masai Mara National Reserve in Kenya, and then returning to the Serengeti once again
Ngorongoro Crater
Finally our Masai Mara and Serengeti safari takes you to Ngorongoro crater. Ngorongoro crater is the world's largest caldera and home to the highest concentration of wild animals in Africa. The crater is also one of the seven natural wonders of Africa.
Wildlife to be seen include the Wildebeest, Zebra, Eland, Grant's and Thompson's Gazelles, Lions, Leopards, Elephants, Wildebeest,  Hyenas, Jackals, Cheetahs, Buffalo, Black Rhinos and Hippos.
This is an all year round safari with a rewarding game viewing experience irrespective of the travel period
The highlights of this tour are Combining Masai Mara national reserve  and Serengeti national park. This are the 2 leading safari destinations in East Africa for wildebeest migration, Big 5 and Wildebeest calving sightings depending on the travel season
Masai Mara and Serengeti Safari
Our 7 Days Kenya and  Tanzania safari  via Lake Victoria is a privately guided tour. While on this tour guests stay in mid level tented lodges and camps to make the tour affordable.
Book your Kenya and Tanzania safari combinations with us and experience this natural world wonder with our safari guides.
The safari price and Safari booking is therefore guaranteed upon confirmation of the booking. This privately guided tour is fit for families and at the same time its child friendly. Hot air balloon safari in both Masai Mara and Serengeti national park is available on request.
Transport and Game Drives while on this tour is in a custom made 4×4 safari vehicle. All our vehicles have a popup roof hence they are ideal  for game viewing and photography. We carry a maximum of  6 people in a vehicle so as to ensure all travelers get a window seat.
Our Kenya and Tanzania budget safari runs on private and exclusive basis. This means that it can depart at the client's most convenient date. You will enjoy exclusive services of your English speaking guide.  Multilingual guides are however available on request.
Whats included in the total safari cost?
All meals
Road travel
Unlimited game drives
park entry fees
government taxes
crater fees , concession and camping fees
mineral water
We offer our guests an option to tailor make this tour. Guests can therefore choose their mode of transport or use their choice of lodges & tented camps. Guests may also opt to include flights between destinations if desired. Kindly do let us know how we can make your  safari memorable!!!
Route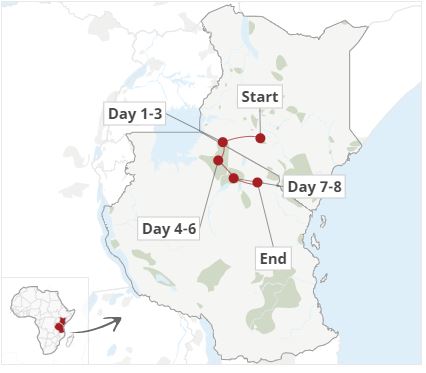 Kenya
Nairobi – Great Rift valley – Masai Mara

Full day game drives in Masai Mara game reserve

Masai Mara – Lake Victoria , Boat ride /Fishing Speke bay lodge

Lake Victoria – Serengeti national park
Tanzania
Serengeti National park Full day game drives

Serengeti National park – Ngorongoro Crater

Ngororongoro -Arusha – Departure
Wildlife to see

Zebra
abundant

wildebeest
abundant

Buffalo
abundant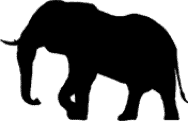 Elephant
common
Lion
common
Main Destination:
| | |
| --- | --- |
| Masai Mara National Reserve | Lake Victoria |
| Serengeti National park | Ngorongoro Crater |
Interested in This Tour?