9 Days/8 nights Kenya and Tanzania Wildebeest Calving Safari 
Exclusive 9 days Wildebeest calving safari experience. This tour starts from Nairobi into Amboseli National park at the foothills of Mt Kilimanjaro. You will spend  2 nights of your Kenya & Tanzania safari at this park famed for large herds of elephants. Thereafter head into Tanzania parks in the northern circuit. This are Lake Manyara national park, Serengeti National park, and Ngorongoro crater respectively.
This 9 days Kenya and  Tanzania cross border safari combination  program is tailored to give more emphasis on wildebeest migration herds and calving in Serengeti and Ngorongoro conservation areas.
The wildebeest calving starts from January to February. During this period the wildebeest give birth to  8 000 calves every day. The calving season carries on into March and is joined by other animals too. Tens of thousands of zebras and gazelles have accompanied the wildebeest on their trek and are taking advantage of safety in numbers to drop their young too.
Such numbers of young and inexperienced animals are of course a magnet for Africa's predators. The big cats i.e. lions, leopards, and cheetahs stalk the southern Serengeti along with spotted hyenas, black-backed jackals, and African wild dogs. Your chance of seeing predator prey interaction and indeed a kill are very high during the Serengeti calving season. This is great news for wildlife photographers if not for the wildebeest.
6 days Serengeti wildebeest calving safari 
Finally you will visit Ngorongoro crater. In Tanzania, Ngorongoro Crater is said to have the world densest population of lion. The crater is one of the seven natural wonders of Africa. You will easily see wildebeests, Zebras, Eland, Grant's and Thompson's Gazelles, Lions, Leopards, Elephants, Hyenas, Jackals, Cheetahs, Buffalo, Black Rhino and Hippos.
Our 9 days Kenya and Tanzania combined wildebeest calving safari stays in luxury  lodges and tented camps. The camps and lodges are well located in the parks for clients comfort and easy wildlife trailing . Book your Wildebeest calving and Kenya and Tanzania safari combinations with us and experience this natural world wonder with our safari guides.
This tour runs on  private and exclusive basis hence it can depart at client's convenient day.
Safari booking is a guarantee. This privately guided tour is fit for families and its also child friendly.
Hot air balloon safari in Serengeti national park is also available on request.
You will enjoy the professional services of your safari guide while on our 9 days Kenya Tanzania Wildebeest calving safari.
You will get cross border assistance from both our Kenya and Tanzania expert safari guides.
Whats included in the safari cost?
All meals
Road travel
Unlimited game drives
park entry fees
government taxes
crater fees , concession and camping fees
mineral water
Flying Doctors evacuation cover
We offer our guests an option to tailor make this tour. Guests can therefore choose their mode of transport or their choice of hotel. You could also use flights between locations if you so desire. Kindly do let us know how we can make your dream safari memorable!
Route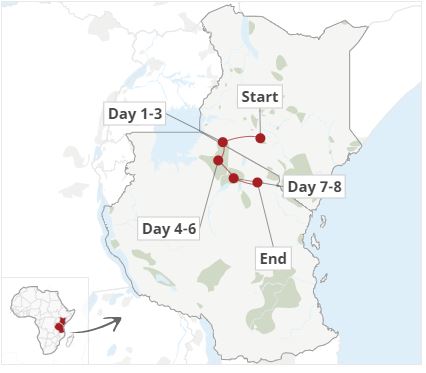 Kenya
Nairobi – Amboseli National park

Amboseli national park – full days Game drives at the foot hills of Mt Kilimanjaro

Amboseli – Arusha ( Tanzania) – Lake manyara national park

Lake Manyara – Serengeti national park
Tanzania
Serengeti wildebeest calving and migration trailing

Serengeti national park – Olduvai gorge Ngorongoro conservation area

Ngorongoro Crater Tour

Ngorongoro Crater -Arusha ( Tanzania) – Zanzibar or Rwanda for 3 days Rwanda Gorilla expedition
Wildlife to see

Wildebeest
abundant

Zebra
Abundant
Lion
common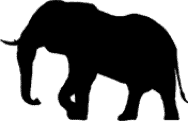 Elephants
common

Buffalo
abundant

Leopard
common
Main Destination:
| | |
| --- | --- |
| Amboseli National Park | Lake Manyara National Park |
| Serengeti National Park | Migration Trails- Wildebeest Calving |
| Ngorongoro Crater | Zanzibar |
Interested in This Tour?