East Africa Game Parks & Rwanda Gorillas trekking safari
Reserve our East Africa Overland Safari.While on this tour you will explore Kenya and Tanzania finest game parks & Rwanda Gorillas trekking safari. You will sample wildlife viewing in Kenya and Tanzania parks then you will trek mountain gorillas in Volcanoes national park. This park is home to over 400 gorillas, bringing to a close your East Africa overland wildlife holiday safari.
While on our two weeks East Africa Overland safari travelers visit the following destinations:
Safari In Kenya:
Masai Mara national reserve
Lake Nakuru National  park
Amboseli national park
In Tanzania's leading parks with wildlife viewing opportunities all year round:
Lake Manyara national park
Serengeti national park; you will witness the wildebeest migration or wildebeest calving depending on your travel period
Ngorongoro crater safari
In Rwanda: 
You will take a city excursion to the Kigali Genocide Museum then proceed to the Volcanoes national park.
What is the cost of a Gorilla Viewing permit ?
Rwanda Gorilla Viewing permits costs US$ 1500 each. They should be booked well in advance due to limited availability. Children age limit for a gorilla viewing safari is 15 years.
The safari starts with an overnight stay in Nairobi to relax ahead of the safari expedition. We shall meet you at the airport on arrival and drive you to your Nairobi hotel for an overnight stay.
15 Days Best of East Africa game parks and Gorilla safari visits Kenya, Tanzania and Rwanda. This is an adventure Wildlife and Gorilla safari that samples the must visit parks for game drives, Wildebeest migration in Masai Mara. As well as the Great Rift valley and Kilimanjaro view from Amboseli with large herds of elephants. later you will be guided through the Tanzania immigration procedures by our safari guide at the Namanga border point. After border formalities head to Tanzania Parks in the northern tourist circuit. This are Lake Manyara national park, Serengeti national park and Ngorongoro crater. Finally fly to Kigali the capital city of Rwanda for 3 days Gorilla tracking safari.
Kenya /Tanzania/ Rwanda | East Africa cross border overland safari
This safari combination allows quality game drives in Masai Mara  searching for the big 5 and hot air balloon safari. This is where the great wildebeest migration is a spectacle to behold for visitors to Kenya mainly in July to October each year.
In Tanzania, Ngorongoro Crater is said to have the world's densest population of lion. Elephants, Black rhinos and buffaloes can easily be seen here. Ngorongoro Crater is often called 'Africa's Eden' and it's also the '8th Natural Wonder of the World.
In Lake Manyara lions have developed a liking for residing in the branches of trees, where they can both sleep and watch for prey.
Whilst Serengeti is notable for its large migratory herds of wildebeest and zebras with strings of predators in trail. Serengeti national park never disappoints all year round although it's more exciting if you travel at certain times of the year.
Thousands of wildebeest calves are born in Serengeti national park from January to march every year. Hence if you take a tour around this time, you will witness the wildebeest calving. During this period 8000 young wildebeest are born each day. In June and July wildebeest make their way across the Grumeti River moving northwest in the park in search of the green pasture. The sight of millions of wildebeest herds, zebras and predators is always an exciting experience .
Kenya and Tanzania safari combine Serengeti and Masai Mara ecosystem for a rewarding wildebeest migration safari. By December, the herds have started to make their way back down south to the southern Serengeti to feed on the short green grasses of the plains after leaving the Masai Mara Game reserve. Therefore, one can book a Kenya Tanzania combined safari at any time of the year.
Visit Volcanoes National Park Rwanda  
Our East Africa overland safari runs on private and exclusive basis closed to your safari group.
You will enjoy the professional services of your safari guide in Kenya, Tanzania, and Rwanda.
While on this tour you will stay in lodges and luxury tented camps all along.
We offer guests an option to tailor make this tour. Therefore, travelers can and use their choice of lodges and camps. They may also include flights as desired. Please let us know how we can make your ideal wildlife safari holiday.
Route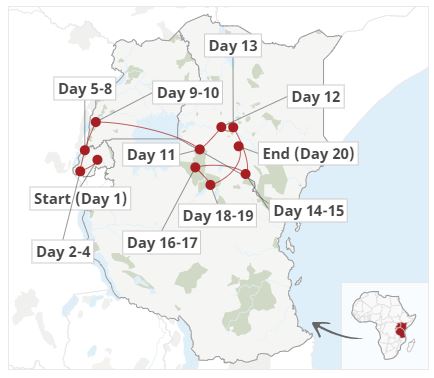 Kenya
Arrival – Nairobi – city

Nairobi – Rift valley Masai Mara game reserve

Masai Mara game reserve, Big 5 safari , wildebeest migration trails

Masai Mara lake Nakuru national park

Lake nakuru national park – Amboseli national park

Amboseli national park
Tanzania
Amboseli national park – Arusha – Tanzania

Lake manyara – serengeti national park

Serengeti national park

Serengeti national park – Ngorongoro crater Tour
Rwanda
Ngorongoro crater – Arusha -Flight to Kigali

Kigali Genocide Museum visit Excursion

Gorilla trekking expedition -Parc Nationale des Volcans in Rwanda

Parc Nationale Des Volcans – Kigali – Departure
Wildlife to see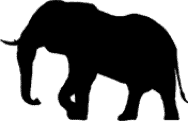 Elephants
abundant

Buffalo
abundant

wildebeest
abundant

Hyena
common
Giraffe
abundant
Lion
abundant
Main Destination:
| | |
| --- | --- |
| Masai Mara game reserve | wildebeest migration trails |
| lake Nakuru national park | Amboseli national park |
| Lake Manyara national park | Serengeti national park |
| Ngorongoro crater Tour | Kigali Genocide Museum |
| Gorilla trekking expedition | |
Interested in This Tour?