Wildebeest migration & calving in Tanzania
Tanzania Serengeti Wildebeest migration safari. Wildebeest calving safari. The best time to take this tour is from December to January of every year.
Our
7 days Tanzania safari
stays in luxury lodges and tented camps. All our vehicles have a popup roof which is ideal  for game viewing and photography.  We carry 6 people in a vehicle.  However, we guarantee departure for group of 2 to 6 people.
Book our 7 Days Tanzania safari Itinerary. This safari is tailored to give more emphasis in wildebeest migration herds and calving in Serengeti and Ngorongoro conservation area.
Then the wildebeest calving begins from  January to February. During this period, the wildebeest give birth to some 8 000 calves every day. The calving season carries on into March and is joined by other animals too. Tens of thousands of zebras and gazelles have accompanied the wildebeest on their trek. They then, take advantage of safety in numbers to drop their young ones too.
Such numbers of young and inexperienced animals are of course a magnet for Africa's predators. The big cats i.e. lions, leopards, and cheetahs stalk the southern Serengeti along with spotted hyenas, black backed jackals, and African wild dogs. Your chance of seeing predator prey interaction and a kill are very high during the
Serengeti calving season
. This is great news for wildlife photographers if not for the wildebeest.
Tanzania Serengeti and Ngorongoro crater migration trails safari
In Tanzania, Ngorongoro Crater is said to have the world's densest population of lion. You will easily see Elephants, Black rhinos and buffaloes. Ngorongoro Crater is often called 'Africa's Eden' and it's also the '8th Natural Wonder of the World.  In fact a visit to the crater is the main draw card for tourists coming to Tanzania and its a definite world class attraction. The Ngorongoro Conservation Area is home to Ngorongoro Crater. The crater is actually a caldera that measures 22.5 km's across and the rim walls stand 600 metres high. Views from within and from the rim are stunning. What animals am i likely to see in Ngorongoro?. The crater houses 30,000 animals and a large variety of birds. The animals and birds rarely move from the area due to the availability of water through wet and dry seasons.
Serengeti Great Wildebeest migration
Our Serengeti Wildebeest migration safari  stays in luxury  lodges and tented camps.  You will experience this natural world wonder when you book your Tanzania safari with us.
This tour runs on private and exclusive basis. It can therefore depart at client's most convenient dates.
We guarantee departures subject to availability of lodges or tented camps . This privately guided tour is fit for families and its children friendly.
A hot air balloon safari in Serengeti national park is a once in a lifetime experience. We would be happy to book this experience for you.
You will enjoy professional services of your safari guide when you tour Tanzania with us.
Whats included in the safari cost?
All meals
Road travel
Unlimited game drives
park entry fees
government taxes
crater fees ,concession and camping fees
mineral water
Flying Doctors evacuation cover
We can also help you tailor make this safari to suit your specific needs. You can choose to book a flight rather than going by road or even you can choose the type of lodge you want to stay in. Contact us so as to make the best of your safari truly memorable
Route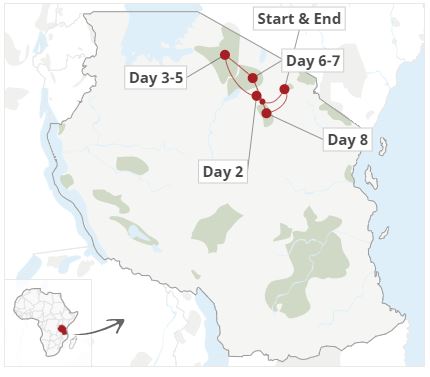 Tanzania
Arrival – Arusha, Tanzania

Arusha – Lake Manyara- Ngorongoro Conservation Area

Ngorongoro Crater Tour

Serengeti Ndutu Plains – Olduvai Gorge

Serengeti Migration Trails- Wildebeest Calving

Ndutu- Departure
Wildlife to see
hippos
common

zebra
abundant

wildebeest
abundant
Lion
common

leopard
common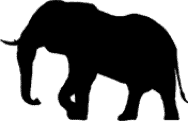 Elephant
common
Main Destination:
| | |
| --- | --- |
| Lake Manyara | Ngorongoro Conservation Area |
| Serengeti Ndutu Plains | Serengeti Migration Trails |
Interested in This Tour?