Bush and Beach Safaris in Kenya and Tanzania
Wildlife & Beach Vacations / Kenyan wildlife & Coast Holiday Safaris / Serengeti – Zanzibar Safari Packages
Discover our range of  Bush wildlife & beach safaris. Africa wildlife safaris that combine travel to the Indian Ocean with hotel vacations close its white sand beaches and crystal clear waters with the breathtaking Wildlife and Bush vacation adventures.
Our well selected Africa wildlife  safari packages of Bush wildlife & beach safaris combine the most famous Game parks in Kenya and Tanzania that harbors abundant wildlife all year round . The tours finishes at Indian Ocean white sandy beaches. The beaches include Zanzibar beaches, Pemba beach , Lamu Island, Diani beach Kenya , Mombasa beach , Malindi and watamu beach. 
What are the best beaches in Kenya & Tanzania?
With this holiday option, you have a perfect opportunity to combine a bush and wildlife safari with a beach experience. After the safari, you can choose from several beach destinations in Kenya like Mombasa beach, Diani Beach, and Watamu beach.
While in Tanzania, you can visit the Zanzibar and Pemba beach. Our cross border 15 Days Kenya Tanzania safari is an ideal tour package to explore East Africa.
Game drive Safaris in Kenya and Tanzania have fantastic game viewing opportunities for wildlife lovers, photographers, Families or Honeymooners. This is mainly because Kenya and Tanzania have good weather all year round.
You can choose to reserve our 12 days Kenya wildlife and beach holiday . And also this tour runs on a private and exclusive basis. This tour stays in well selected lodges and tented  camps. This tour can be tailor made to suit your travel needs.
While in Tanzania, we have compiled a 10 days Tour to Northern Tanzania game parks. This tour starts from Arusha town  then heads to Lake Manyara national park. Third and fourth day it spends in the Magnificent Serengeti national park for big a big 5 safari. Finally, it  takes you to the famous Ngorongoro crater.
When is the wildebeest migration/calving Season?
Get adventurous with the Serengeti Calving safari and wildebeest migration safari combined with a Zanzibar Beach vacation.This phenomena usually happens  from January to March (wildebeest calving) and also July to August (wildebeest migration).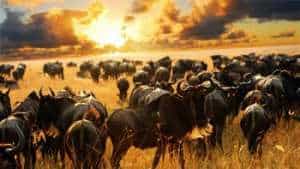 All our safaris run on a private and exclusive basis reserved for a group or family safari. Our professional safari guides are always ready to guide your Tours and Excursions. While in Zanzibar enjoy the water sports and other activities can be offered at your request. 
Why not try a Tailor made Africa Safari?
We have come up with a set of African Bush and Beach Safari Packages for your selection. Reserve your safari with us today!
We meet the diverse demands of travelers from all over the world; so… give us an opportunity to organize your dream holiday and start planning the safari of your dreams. 

Low Season:
March, April, and May

Peak Season:
January, February & June to August
Amazing Africa Bush And Beach Holidays
Kenya Wildlife and Beach safari This 12 Days Kenya Wildlife and Beach safari begins and end in Nairobi. The safari… Read More