Amboseli, Lake Naivasha and Masai Mara Safari
This is an adventure of Amboseli, Lake Naivasha and Masai Mara. 6 Days Kenya Safari package offers the best game viewing. You combine this with backdrops of the lofty Mt. Kilimanjaro and the stunning Lake Naivasha. You will visit Lake Naivasha for a boat ride to see the hippos and visit hell's gate National park. This wildlife lodge safari package offers nothing short of the best of Kenya's most popular game parks.
Brief Safari Itinerary day by day:
1-2: Amboseli National Park ,2 nights
3: Lake Naivasha – Hells Gate National Park
4-5 Masai Mara Game reserve, 2 nights
6: Masai Mara to Nairobi
Your Kenya holiday safari starts in Nairobi where you meet our Tour Guide. The guide will give a short safari briefing. Thereafter board your 4×4 safari vehicle to start your safari to Kenya's top three most famous game parks and reserves.
Your first safari destination will be Amboseli National park.Here you will spend two nights exploring one of the most popular wildlife parks in Kenya. The park is situated close to the Kenya and Tanzania border. Amboseli National Park lies at the foot of Mt. Kilimanjaro. This is the highest mountain in Africa at 5,896 m .Its snow capped summit presents a splendid view in the clear wild. You will spend the best of the two days in this park.
Lake Naivasha Safari- 1 day
On the third Day of your safari, you will travel across the Great Rift Valley to Lake Naivasha. Lake Naivasha is one of Kenya's Great Rift Valley Lakes. Despite its relative lack of depth, it's home to numerous hippos and hundreds of bird species as well as being an important stopover for migratory birds.
The landscape surrounding Lake Naivasha consists of an incredible mosaic of swamps (which expand and retreat with the seasons), acacia forests and the high Rift Valley cliffs. These provide nesting sites for many of the area's bird species.
Finally your 6 days safari visits the Masai Mara Game reserve. We also offer similar tours such as:
Why travel to the Masai Mara Game Reserve ?
It's one of the world's most famous game reserves. You will find the BIG 5 and other wildlife varieties in abundance in Masai Mara. You will easily see lions, hippos, crocodiles, giraffe, wildebeests, zebras, buffalo, warthogs, hyenas, jackals, buffalo, leopards. The Masai Mara also has a variety of antelopes, impala and gazelles breeds alongside the numerous bird species.
When is the best time to visit the Masai Mara?
Your game drives in Masai Mara will also include a visit to the Mara river. This is where the annual wildebeest migration takes place from July through to October. Your safari guide will also drive you to Talek River or Sand river. The wildebeest crossing also takes place here.
We highly recommend hot balloon safari and the Masai cultural tour when you visit Masai Mara. Our 6 days safari to Amboseli, Lake Naivasha and Masai Mara runs on a private basis. Therefore, the tour can depart at the client's most convenient dates.
You will enjoy exclusive services of your English speaking guide. We also have multilingual tour guides available on request.
This safari package pricing includes:
3 meals per day while on safari. It also includes park entry fees for the duration. This tour runs on private basis hence its child friendly.
While on this tour guests stay in well selected lodges and tented camps. We offer  guests an option to tailor make this tour and use their choice of lodges or camps. You can also choose flights as per your desire.
Kindly do let us know how we can make your safari memorable!
Route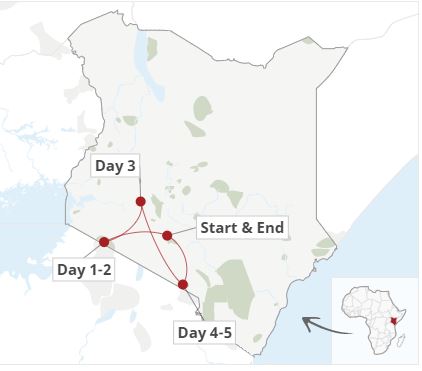 Amboseli National Park
Nairobi - Amboseli National Park

Amboseli National Park

Amboseli National Reserve- Lake Naivasha National Park

Lake Naivasha - Masai Mara National Reserve

Masai Mara National Reserve

Masai Mara- Nairobi
Wildlife to see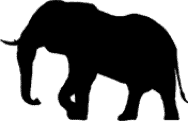 Elephants
abundant
Lion
common

hyena
common

Zebra
abundant
Giraffe
common
Main Destination:
| | |
| --- | --- |
| Amboseli Game Reserve | Lake Naivasha National Park |
| Masai Mara Game Reserve | |
Interested in This Tour?