Explore East Africa Wildlife Safari| Rwanda Gorilla Tour |Kenya , Tanzania and Rwanda
Reserve our East Africa wildlife safari 14 Days  parks and Rwanda Gorilla Tour. This tour visits Kenya and Tanzania most famous game parks for game drives. This tour combines Kenya and Tanzania with Volcanoes national park Rwanda which is home to over 400 Mountain gorillas.
Explore East Africa wildlife safari to Kenya ,Tanzania wildlife parks and Rwanda Gorilla tour. This remarkable East Africa safari package combines Kenya, Tanzania, and Rwanda. It's a combination of wildlife viewing in Kenya and Tanzania. Finally you travel to Rwanda to trek mountain gorillas in parc Volcanoes national park. This park is home to over 400 mountain gorillas.
East Africa wildlife Safari and Gorilla Trekking 
Your 14 days Explore East Africa safari package summary:
1: Arrival- Nairobi, Kenya
2-4: Masai Mara National reserve for big 5 safari and wildebeest migration.
5: Lake Victoria for boat ride and fishing excursion
6-7: Serengeti national park also for big 5, wildebeest migration and wildebeest calving.
8-9: Ngorongoro crater, here you will visit the Olduvai Museum and enjoy a crater safari.
10: Tarangire national park, visit this park for its huge herds of elephants.
11-14: Rwanda gorilla trekking.
Embark on this
two weeks East Africa Safari package
with our professional and knowledgeable safari guides. While on our 14 days Explore East Africa safari you will stay in mid level tented camps and lodges all along. The standard  of accommodation makes the tour not only affordable but also offers our guests a real sense of African safari experience.
Besides visiting the rich wildlife parks in Kenya and Tanzania, the highlight of this tour is engaging on a fishing expedition in Lake Victoria, and the Gorilla tracking experience.
Gorilla Trekking Rwanda  
Your last safari destination on this East African safari will be Rwanda.  In the morning you will take a city tour of  Kigali and also visit the Genocide Museum. Later you proceed to the Volcanoes national park which is home to over 400 mountain Gorillas.
Rwanda Gorilla Viewing permits costs US$ 1500 each and is included in the tour price quoted. Rwanda Gorilla viewing permits should be booked well in advance due to limited availability.
This East Africa safari combo stays for 3 nights in Masai Mara game reserve. This offers our guests quality game drives in Masai Mara. You will have 2 full days to search for the big 5 and other wildlife species. The tour also stays for two nights in Serengeti national parks. This is where the great wildebeest migration is a spectacle to behold for any would be visitor to Kenya from July to October each year.
Wildlife safari in East Africa
In Tanzania, Ngorongoro Crater is said to have the world's densest population of lion. Elephants, Black rhinos and buffaloes can easily be seen here. Ngorongoro Crater is often called 'Africa's Eden' and it's also the '8th Natural Wonder of the World.  In fact a visit to the crater is the main draw card for tourists coming to Tanzania and its a definite world class attraction. The Ngorongoro Conservation Area is home to Ngorongoro Crater. The crater is actually a caldera, measures 22.5 km's across and the rim walls stand 600 metres high. Views from within and from the rim are breathtaking. What animals am I likely to see in Ngorongoro?. The crater houses 30,000 animals and a large variety of birds. The wildlife rarely moves from the area due to the availability of water through wet and dry seasons
Tarangire national park is one of the most visited parks in the Northern Tanzania safari circuit. Huge herds of elephant are a distinctive feature of Tarangire. However, the grassland, swamps and floodplains found here are home to big cats, giraffe, baboons, hippo, and other wild game. It's also important to note that the park is a haven for numerous species of bird life. Tree climbing lions and rock pythons can also be easily spotted here.
Kenya and Tanzania wildlife safari
Serengeti national park never disappoints all year round. However it's more exciting if you travel at certain times of the year. Thousands of wildebeest calves are born in Serengeti national park from January to march every year. Hence if you take a tour around this time, you will witness wildebeest calving. During this period 8000 young wildebeest are born each day.
From June to July wildebeest make their way across the Grumeti River moving northwest in the park in search of the green pasture. The sight of millions of wildebeest herds, zebras and predators is always an exciting experience. While on our Kenya and Tanzania safaris you will combine Serengeti and Masai Mara ecosystem for a rewarding wildebeest migration safari. By December, the herds have started to make their way back down south to the southern Serengeti to feed on the short green grasses of the plains after leaving the Masai Mara Game reserve. Therefore, one can book a Kenya Tanzania combined safari at any time of the year
Our 10 Days Masai Mara migration & Rwanda Gorillas trekking safari runs on  private and exclusive
You will enjoy the professional services of your safari guides in East Africa.
This tour stays in mid range lodges and tented camps all along to make the price affordable.
We offer you an option to customize this tour. You can opt to use your choice of lodges and tented camps and you may also include flights if desired. Kindly do let us know how we can make your ideal wildlife safari holiday  memorable.
Route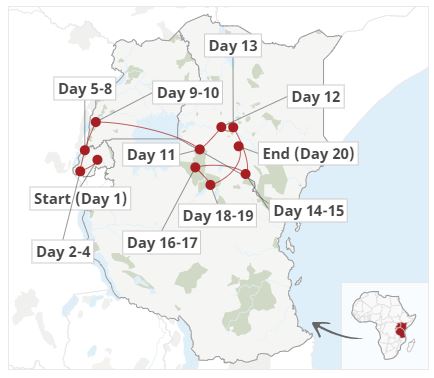 Kenya
Arrival – Nairobi – Kenya

Nairobi – Great Rift Valley – Masai Mara Game reserve

Masai Mara – Big 5 Safari , Hot air balloon safari

Masai Mara , Wildebeest migration – Mara river
Tanzania
Masai Mara – Lake Victoria – Speke Bay Boat Ride /Fishing (Tanzania )

Lake Victoria – Serengeti national park

Serengeti National park – Game drives

Serengeti – Olduvai Gorge museum – Ngorongoro Conservation area

Ngorongoro Crater tour – full day

Ngorongoro Crater – Tarangire national park
Rwanda
Tarangire National park – Arusha – Kigali (Rwanda )

Kigali – Genocide Museum visit -Parc Volcanoes national park

Rwanda Gorilla tracking – Parc Volcanoes national park

Parc Volcanoes national park – Kigali – Departure
Wildlife to see

Buffalo
common

wildebeest
abundant

cheetah
common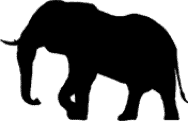 Elephant
Common
Giraffe
common

Hyena
common
Main Destination:
| | |
| --- | --- |
| Masai Mara National Reserve | Lake Victoria- Speke Bay |
| Serengeti National Park | Ngorongoro Via Olduvai Gorge |
| Tarangire National Park | Arusha town |
| Kigali City Tour | Gorilla Trekking |
| Volcanoes National Park | Parc National Des Volcans |
Interested in This Tour?